Lupin Harvest and Seeding
September 6, 2007
"A special lupin banquet was held at a botanical meeting in Germany in 1917. To highlight the varying uses of the plant, the tablecloth was produced using lupin fibre, the cheese was made out of lupin albumen, they served lupin liqueur and lupin coffee, and even lupin soup."

--Rachel Newcombe
http://www.hotfact.com/lupin.html




Today I am featuring a guest blog with text and photos by my friend Lois Klassen, a wonderful artist originally from Manitoba who is planting bee-friendly lupins in her neighborhood here in Vancouver. Check out Lois's artworks on her blog. She is currently offering workshops on handmade books and Lois will also be part of the East Side Culture Crawl the weekend of November 16-18.

Lupin Harvest and Seeding
by Lois Klassen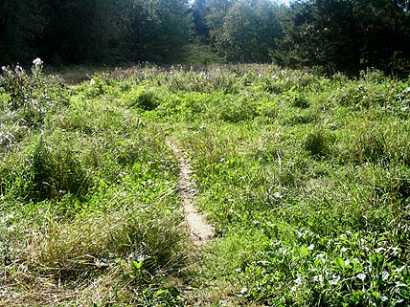 As an atypically rainy Vancouver summer nears its end, it feels like a relief to put my hands to the task of early seed harvest and fall sowing. Thanks to a tip from a caller to a radio broadcast about David Tracey's new book, Guerrilla Gardening: A Manualfesto (http://www.davidtracey.ca/books/), last week I set out in search of ripe Lupin seed pods in the forests of Jericho Beach Park. At this point in their growing season, Lupins have mostly finished blooming and are letting their fuzzy seedpods turn grayish brown in the afternoon sun. It was easy to find and gather a cup or two of closed pods. Later, I spread them out to dry on newspaper in the direct outdoor sun. When I checked on them about an hour later, I heard little 'pings' as the pods burst, curling the casings backwards and thereby hurling the seeds in all directions through my tiny backyard.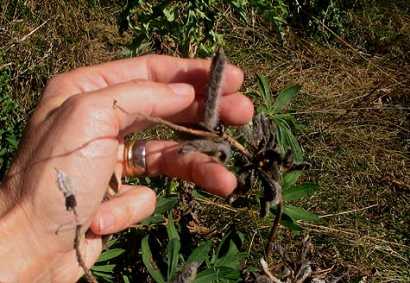 Perhaps next spring, I will be treated to some of these 'volunteer' Lupin seedlings in the beds around the house. My intention, though, is to add these seeds to the empty soil of a nearby traffic roundabout. This summer I filled that bed with the seeds of sweet peas, which grew to the flowering stage before a massive infestation of aphids completely consumed them. That was a sad and not very pretty sight, but not completely discouraging. It was really a symptom of poor growing conditions -the atypical weather that I have already mentioned and almost sterile soil; and the monoculture environment, which I contributed to creating. All of it was documented with a Super8 camera. I intend to edit the footage for a single channel video work, called Field. It will be part of a group exhibition, Serious Women Don't Do Flowers, at the Mount Seymour Art Gallery in February 2008.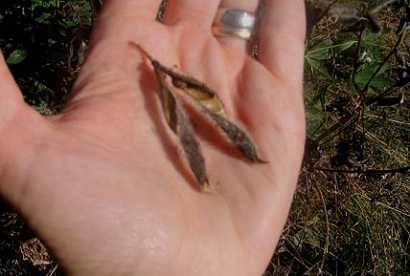 I have to thank the radio caller who described her guerrilla gardening tactic of gathering lupin seeds (several pounds, she said!), and then broadcasting them over new highway cuts in rural areas. This is an inspiring strategy, because Lupins, like Sweet Peas, are legumes, which will fix nitrogen into marginal soil. The richer they make the soil, the more carbon uptake potential there is in subsequent growth. I think that this should be a major motive for plantings along roadways. Besides that, Lupins are loved for their beautiful flowers by bees as well as passers-by. I read that they were once considered a food source (the pods, I am guessing). Perhaps I will get a chance to taste them next year. I have also learned that though they were grown by the Romans for food and 'green manure', they were only introduced to England from North America in the 16th century. Indigenous as a forest and mountain plant here, they thrive in less than ideal growing conditions. Let's see how they will do at 5th and Blenheim.


Warning
: Undefined array key "Bees_CK" in
/home/public/2006_BEES/bees_utilities.php
on line
56