A Very Cool Bug Lady
August 22, 2007
"Maria Keating: Pest Manager. BSc(Agr.) Maria is a freelance photographer specializing in macro gardening. She has been curious about the role insects play in the ecosystem for over a decade. She has 8 years experience working as a Greenhouse Biological Control Consultant, a City Farmer Entomologist and Gardener, and works with (www.thebuglady.ca) a beneficial insect supply company. Through educational workshops and presentations she has been spreading the concept of using beneficial insects to combat pest problems commercially in our food systems and at home in our gardens."

--from the City Farmer website (cityfarmer.org)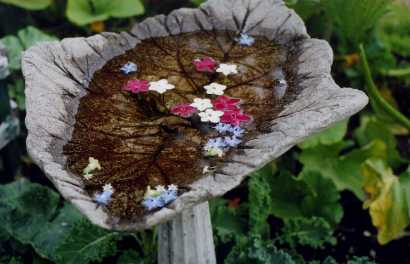 The Cypress Community Garden near Burrard and 5th is a vibrant corridor of vegetables, flowers, and bees. Last Friday I took my son on a walking tour of those gardens, but our final destination was just around the corner. Once you reach the western end of Cypress Community garden, turn right (North) and you'll find yourself in a very special Vancouver oasis--the City Farmer Garden. Flower heads and petals float in birdbaths placed artfully among the plants. The licorice scent of fennel floats under our noses. A bouquet of sweet peas brightens up a shady path. We wind our way back to the eastern side of the garden and find Maria Keating, the resident entomologist tending her beautiful bee and butterfly garden. Maria is a very enthusiastic bug lady and she's happy to share information on which plants attract bees and butterflies to your garden.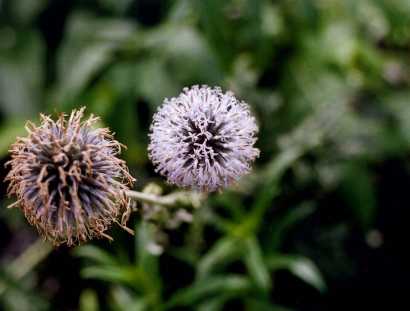 I snap some photos and Maria helps me make a list of plants we think will be suitable for children's bee gardens planted "guerilla style" in vacant lots in the city. She tells me that Sharon, the head gardener at City Gardener calls the purple-flowered Verbena plant the "see-through plant" because its foliage is sparse enough to show off the plants behind it in the garden bed. She tells me that this plant also attracts the tiny iridescent halictid or "sweat" bees. Maria says her favorite flower at the moment is the globe thistle, covered with tiny light blue flowers. "It's like a tiny Buckminster Fuller globe," she notes. This summer she snapped a photo of a bumblebee on a globe thistle and saw that the bee had three distinct stripes of different colored pollen on her baskets. "What's a bumble bee's favorite ice cream? Neopollentin!" she quips.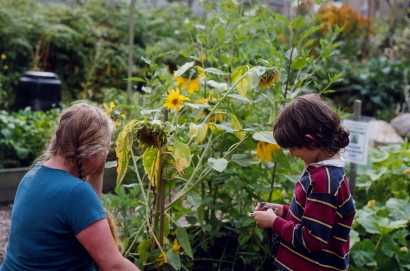 Maria shows my son a tiny pirate bug and a lacewing egg on a sunflower head. He shows her his new Dr. Who book. She tries to convince him that the sunflower seed shells look like alien space pods. While we are observing her Three Sisters garden, a shaggy bumble bee emerges from a squash blossom, covered in yellow-orange powder. A grouchy raccoon passes through the garden to find another dark corner to continue his good day's nap. We give him a wide berth as we leave the garden. On the way out, Maria shakes the pods of some Love-in-a-Mist (Nigella) seeds into a little bag I can take home. Thanks Maria, for a lovely afternoon jaunt in your beautiful garden!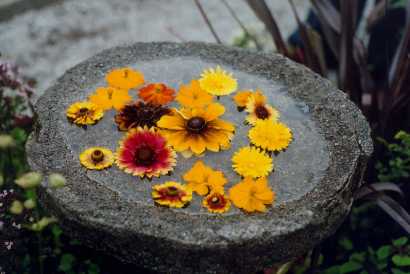 Here is a list of some of the plants in Maria's bee (and bug) garden, as well as some of her favorite bee plants: licorice mint (Anise Hyssop), Nigella (love-in-a-mist), borage, Verbena, cardoons, echinacea, Sneezeweed (Helinium), Gaillardia, rudbeckia, cosmos (yellow), amaranth (for color and for birds), nicotiana, lamb's ears, mullein (the giant plant in vacant lots,) foxgloves, globe thistle, mustard seeds, sunflowers, fennel, squash, beans, pumpkins, corn, and old man's love or lad's love (Artemisia abrotanum).

Yes, (sigh) it's already time to start collecting seeds and planning next year's gardens. I have recently found some excellent resources for researching bee gardens that I would like to share. Follow these links for information on what to plant to attract bees to your neighborhood. I will continue to gather and sort through this information to create some bee garden plans over the winter.

http://nature.berkeley.edu/urbanbeegardens/list.html

http://attra.ncat.org/attra-pub/nativebee.html

http://www.pollinator.org/resources.htm[br