Second Hand Treasure
August 11, 2007
Since the libraries are closed because of the city workers strike I have been haunting the second hand book shops these past few weeks. I've found a few treasures, one of which is a beautiful book of illustrations called In and Out of the Garden by Sara Midda. She has collected some wonderful garden texts, some of which are from authors whose names have been lost in history. Only the wild bees know for sure to whom these wise words belonged.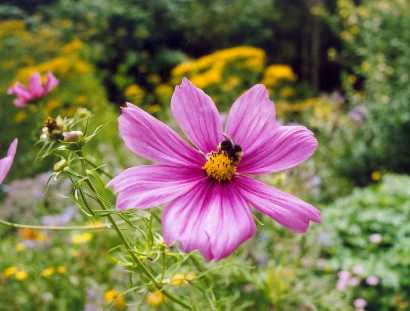 Cosmonaut

"Talk to your bees and they will not harm you, for they love their friends and hate none but their enemies, and they will till your garden with their sweet sound of droning as they pass from flower to flower."

--Anon.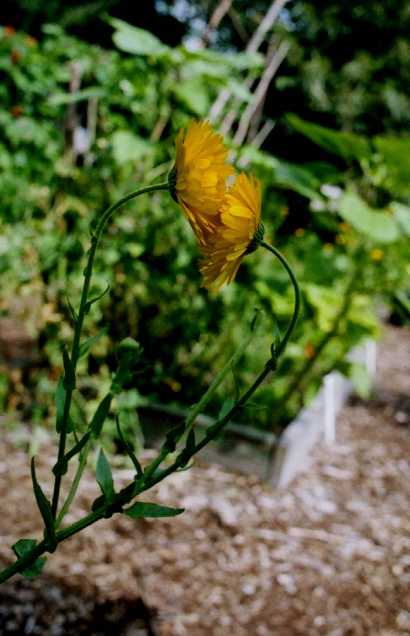 Headphones?

A sweet scented path of thyme, most beloved of bee flowers, may lead to the hives set in the midst of a garden or grassy orchard, and round about it, both for the bee's happiness and to increase the yield of honey, grow those plants which bees particularly delight in. For early flowering; crocus, butter-bur, hepatica and black helebore. Those of sweetest savour; savory, smallage, sage, violets, lavender, sweet marjoram, saffron, poppies, balm, beans, mustard-seed, melilot, forget-me-not, roses, clovers, hollyhock, honeysuckle, mignonette, catmint, sunflower, arabis, borage, vetch, marshmallow, bell-flowers, heather, broom, and bee flower, the old name for the wallflower, as it is especially sweet for bees. Of fruit trees and fruiting plants they most delight in are; the apple, cherry, almond, peach, pear, raspberries, strawberries, and gooseberries which are valuable as they flower early. Pine, willow, lime, and fir are the trees they prefer. Holly and gorse would provide a shelter from strong winds. If the hives are rubbed with balm or sweet cicely, this would please the bees even more. But perchance you should be caught unawares in the bee-garden, then a leaf of either dock, mallow, rue, hollyhock, or ivy which may happen to be close at hand, should be rubbed on the sting in the hope it will help bring relief.

--Anon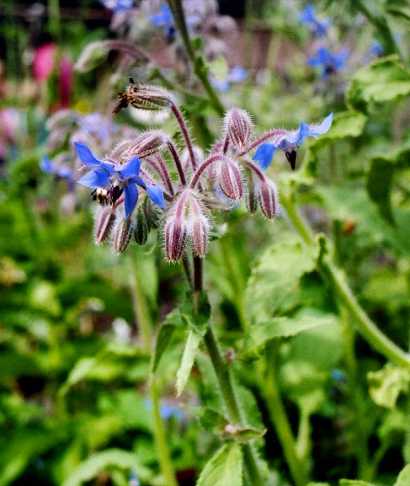 Borage